Date

Apr

07

08

2024

April
04
Apr
7
07
2024

Time

19:00:00

Locale

Waxahachie, TX

Venue

Southwestern Assemblies of God University

Register
The 2024 Eclipse Experience by Discovery Institute
You're Invited!
Nothing compares to the otherworldy experience of witnessing a total solar eclipse in person.
A drop in temperature, a 360-degree sunset, a silvery sheen in the sky, stars and planets strangely visible mid-day, insects and birds behaving erratically, shadows becoming distorted…it is truly one of the greatest shows on Earth.
Beyond the unique sensory experience lies something even more astonishing — a cosmological coincidence of metaphysical significance to human existence and the scientific enterprise.
Discovery Institute is pleased, then, to invite you to join us in the Dallas–Fort Worth metroplex on April 7-8, 2024 for a one-of-a-kind eclipse experience, when the "path of totality" will pass directly over our event venue. Southwestern Assemblies of God University (SAGU) has kindly offered the use of their auditorium and football field for our event due to the proximity of their Waxahachie campus to the center line (in green, below) of the path of totality (in yellow).
Our prime location will afford 2 hours and 40 minutes of viewing (12:22 – 3:02 pm) and 4 minutes and 19 seconds of totality (1:39:47 – 1:44:06 pm) — one of the best (and most accessible) viewing locations in the U.S. and almost double the maximum totality of the last total solar eclipse over North America on August 21, 2017.
What to expect
Setting the stage on the evening prior, accomplished astrobiologist Guillermo Gonzalez and philosopher of science Jay Richards will unpack the importance of total solar eclipses in a public lecture hosted by SAGU. They'll cover both the key arguments from their co-authored book The Privileged Planet (Regnery Publishing, 2004) as well as new discoveries and insights soon to be highlighted in their 20th-anniversary edition scheduled to release later in the year.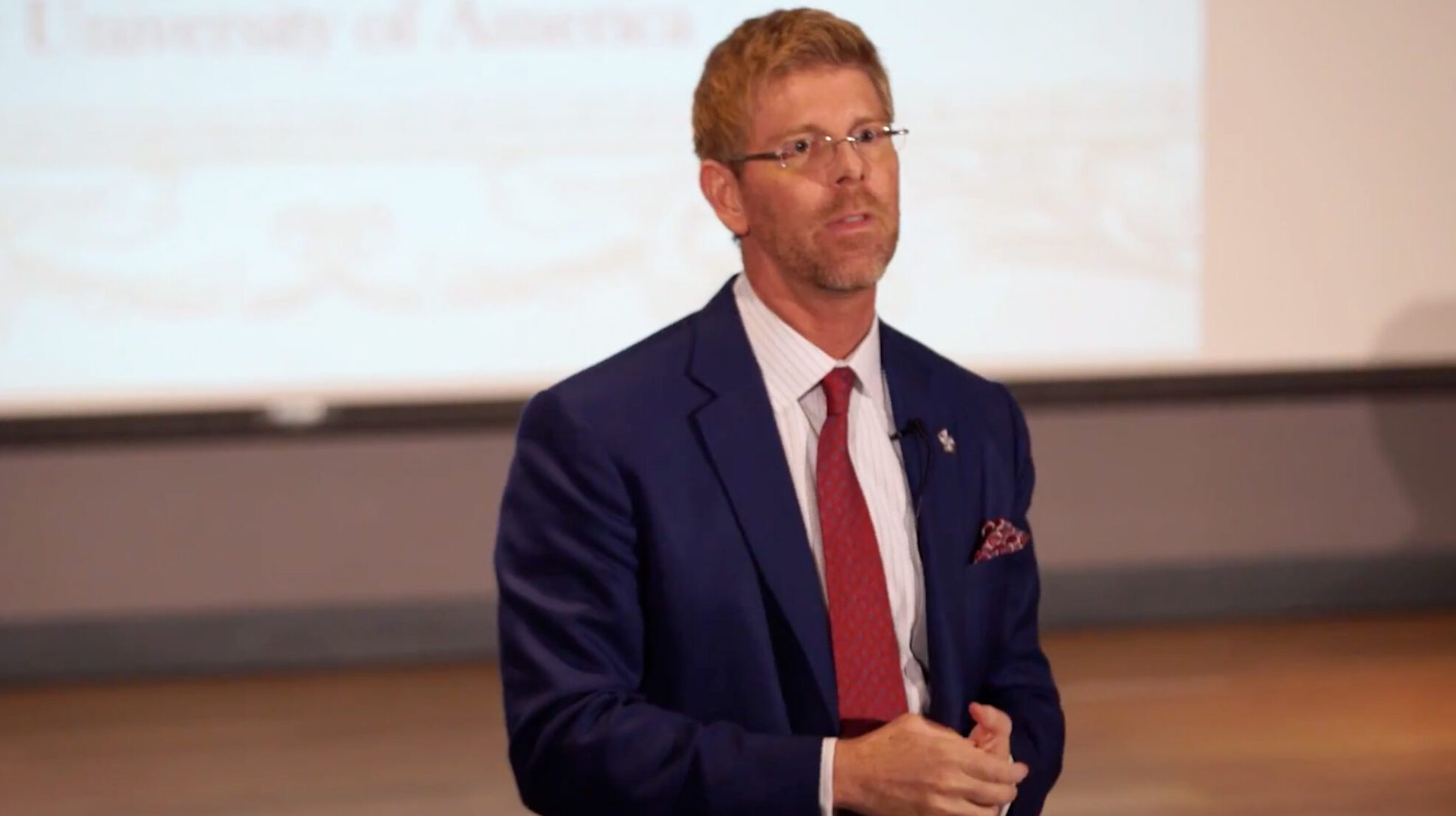 Back on campus on Monday afternoon, these two presenters will then guide viewers through the total solar eclipse experience on the football field at SAGU. They'll prepare you to look for unusual phenomena leading up to the eclipse, provide an immersive silence during the ~4 minutes of totality, and then wrap up with some brief takeaways from this experience.
The whole sensory experience will be one that you'll remember for the rest of your life, and the lessons learned will be of surprising significance to your understanding of our place in the cosmos.
More details
Registration is required and we highly encourage attendees to plan ahead and arrive on campus early enough to enjoy a $10.25 all-you-can-eat buffet lunch at the SAGU cafeteria before the viewing begins. Traffic in the metroplex is expected to reach peak heights around the time of the eclipse, so it's important to build in this buffer so that you don't end up viewing this brief and rare encounter from your car as you sit in gridlock traffic!
Complimentary eclipse viewing glasses will be provided for all those who register for the Monday viewing and cannot be guaranteed for walk-up attendees.
For those visiting from out of town, a discounted block of rooms has been arranged at two Dallas-area hotels. Details are available below.
Why choose Discovery Institute's event?
Total solar eclipses have been a focal point of Discovery Institute's Center for Science & Culture since at least 2004 when the release of the aforementioned The Privileged Planet opened with a detailed exploration of these rare-in-the-universe astronomical occurrences. The book (and documentary film adapted shortly thereafter) explored the finely-tuned conditions on Earth that allow for the existence of intelligent life and also make it strangely well-suited for viewing and analyzing the rest of the universe.
For over two decades, the Center for Science & Culture logo has featured the total solar eclipse (in yellow, here) to represent the fine-tuning of the Earth and cosmos for both life and scientific discovery. Eclipses are also highlighted throughout our programming, especially as we look forward to hosting multiple conferences and events with cosmological themes in 2024.
When
Sunday, April 7, 7:00–8:30 pm
Monday, April 8, 12:00–2:00 pm
Where
Hagee Communication Center
SW Assemblies of God University
499 E. University Avenue
Waxahachie, TX 75165
Contact
Pam Bailey
Dallas Operations Manager
pbailey@discovery.org
Hotel Information

Crowne Plaza Dallas Downtown

1015 Elm Street
Dallas, TX 75202

PRICE: $159.00 (+ tax and self-parking $20 a night)
PHONE: 214-742-5678
DISTANCE: 27.9 miles from Southwestern Assemblies of God University, 6 miles from Dallas Love Field airport

GROUP RATE INFO: Use the link below or reference the Discovery Institute group rate when booking by phone.

Holiday Inn Express & Suites Garland E – Lake Hubbard I30

4412 Bass Pro Drive
Garland, TX 75043

PRICE: $144.00 (+ tax)
PHONE: 972-203-5700
DISTANCE: 44.4 miles from Southwestern Assemblies of God University, 25 miles from Dallas Love Field airport

GROUP RATE INFO: Use the link below or reference the Discovery Institute group rate when booking by phone.
Speakers
Senior Fellow, Center for Science and Culture
Guillermo Gonzalez is a Senior Fellow at Discovery Institute's Center for Science and Culture. He received his Ph.D. in Astronomy in 1993 from the University of Washington. He has done post-doctoral work at the University of Texas, Austin and at the University of Washington and has received fellowships, grants and awards from such institutions as NASA, the University of Washington, the Templeton Foundation, Sigma Xi (scientific research society) and the National Science Foundation.
Senior Fellow at Discovery, Senior Research Fellow at Heritage Foundation
Jay W. Richards, Ph.D., is the William E. Simon Senior Research Fellow at the Heritage Foundation, a Senior Fellow at the Discovery Institute, and the Executive Editor of The Stream. Richards is author or editor of more than a dozen books, including the New York Times bestsellers Infiltrated (2013) and Indivisible (2012); The Human Advantage; Money, Greed, and God, winner of a 2010 Templeton Enterprise Award; The Hobbit Party with Jonathan Witt; and Eat, Fast, Feast. His most recent book, with Douglas Axe and William Briggs, is The Price of Panic: How the Tyranny of Experts Turned a Pandemic Into a Catastrophe.